Meet the Teachers Night / Parent Night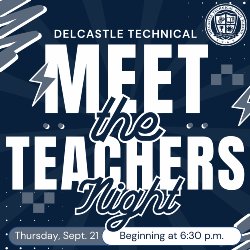 What

Meet the Teachers Night / Parent Night

When

9/21/2023, 6:30 PM

–

8:00 PM
Parent Night is happening on September 21 from 6:30 to 8:00 pm. It's a wonderful opportunity for families to meet their students' teachers and gain insight into their educational journey. During Parent Night, families will go through their students' class schedule, moving from class to class to meet the teachers.

Teachers will engage families in activities similar to what students experience in the classroom, providing a hands-on understanding of the learning process. This interactive approach helps parents and guardians to connect with their child's educational experience more deeply.

Additionally, there will be a Family Fair held in the cafeteria. The Family Fair will provide valuable information about our diverse range of clubs, activities, and student services. It's a chance for families to explore the various opportunities available to students outside of their regular classes.

Please note that Health Career classes, which usually meet at our Marshallton Campus, will hold their sessions in the Media Center for Parent Night. Similarly, Spanish classes that typically meet at our Marshallton Campus will be located in the Back Gymnasium.

We look forward to welcoming all families to Parent Night and creating a collaborative and supportive educational community!

-----------------------------------------

La Noche de Padres se llevará a cabo el 21 de septiembre de 6:30 a 8:00 pm. Es una maravillosa oportunidad para que las familias conozcan a los maestros de sus estudiantes y obtengan una visión más profunda de su trayectoria educativa. Durante la Noche de Padres, las familias recorrerán el horario de clases de sus estudiantes, yendo de una clase a otra para conocer a los maestros.

Los maestros involucrarán a las familias en actividades similares a las que los estudiantes experimentan en el aula, brindando una comprensión práctica del proceso de aprendizaje. Este enfoque interactivo ayuda a los padres y tutores a conectarse más profundamente con la experiencia educativa de sus hijos.

Además, habrá una Feria Familiar en la cafetería. La Feria Familiar proporcionará información valiosa sobre nuestra amplia gama de clubes, actividades y servicios estudiantiles. Es una oportunidad para que las familias exploren las diversas oportunidades disponibles para los estudiantes fuera de sus clases regulares.

Tenga en cuenta que las clases de Health Career, que normalmente se llevan a cabo en nuestro Campus Marshallton, se llevarán a cabo en el Media Center durante la Noche de Padres. Del mismo modo, las clases de español que normalmente se reúnen en nuestro Campus Marshallton estarán ubicadas en el Back Gymnasium.

¡Esperamos dar la bienvenida a todas las familias a la Noche de Padres y crear una comunidad educativa colaborativa y solidaria!
Copy to Google Calendar
•
Download iCal Event